Cielo, a leader in the electronic payments segment in Latin America, achieves the Guiaderodas Certification
Cielo's office in Barueri takes important steps towards accessibility and inclusion.
Promoting inclusion is one of the key ESG (Environmental, Social and Governance) practices and UN Sustainable Development Goals. It is crucial and has strong ties to accessibility. The Guiaderodas Certification has become a decisive tool for companies in various sectors to take important steps towards social responsibility.
The mission of creating a more accessible and inclusive environment was given to Cielo's Diversity and Inclusion team. During the pandemic, the company restructured its way of working, reduced the total area of its Barueri office, and redesigned the workplace to meet new needs.
To ensure the new space's usability, the affinity group focused on people with disabilities in the workplace was mobilized. It was during the office's design phase that the Guiaderodas Certification process began.
The Guiaderodas Certification helped us go beyond adjustments in architecture. It proposes to look at people's experience, to actually look at changing attitudes

says Daniel Poli, Manager of Sustainability, Diversity, and Social Responsibility at Cielo.
The Guiaderodas Certification process
The Certification process occurred in four major areas: Environments, Employees/Service, Governance, and Community.
Guidance in design and clarification of doubts occurred in the first few months with the facilities and architecture team. In addition to the design, a site visit was conducted by Guiaderodas' expert architects and people with disabilities to test the facilities in practice and check if critical obstacles were resolved.
---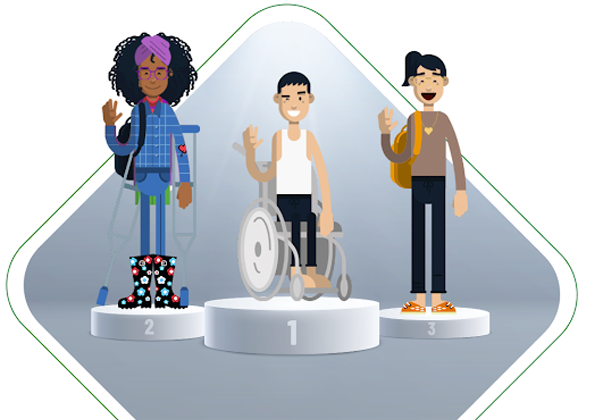 Concurrently, leadership training was held to maximize the impact and bring accessibility to the forefront of the business strategy.
In addition to leadership training, all employees had the opportunity to access the Guiaderodas Attitude Accessible game platform, which uses gamification to familiarize people with the universe of people with disabilities through everyday situations, promoting natural interactions.
Eliminating architectural and attitudinal barriers requires understanding that accessibility is an ongoing exercise and that improvement should happen every day. Therefore, another necessary criterion for achieving the Guiaderodas Certification is the volunteering campaign carried out through the Guiaderodas App. To participate, the employee downloads the app and evaluates the accessibility of any establishment in the world. In less than thirty seconds, by answering questions, the user helps people with disabilities by providing information about the accessibility of the location, avoiding unnecessary trips.
After 12 months of the program, the Cielo office in Barueri achieved the Guiaderodas Certification and took significant steps toward a more inclusive environment.
To promote business and bring different points of view to the development of the company's strategy, it is necessary to have inclusion with diversity.

says Louangela Colquhoun, General Counsel and Sponsor of the Somos Todos Group at Cielo, emphasizing the importance of leadership engagement.